Hallihallo ihr Lieben
Hab wieder Mal News von MAC erhalten. Voilà!
MAC STUDIO QUIKTRIK STICK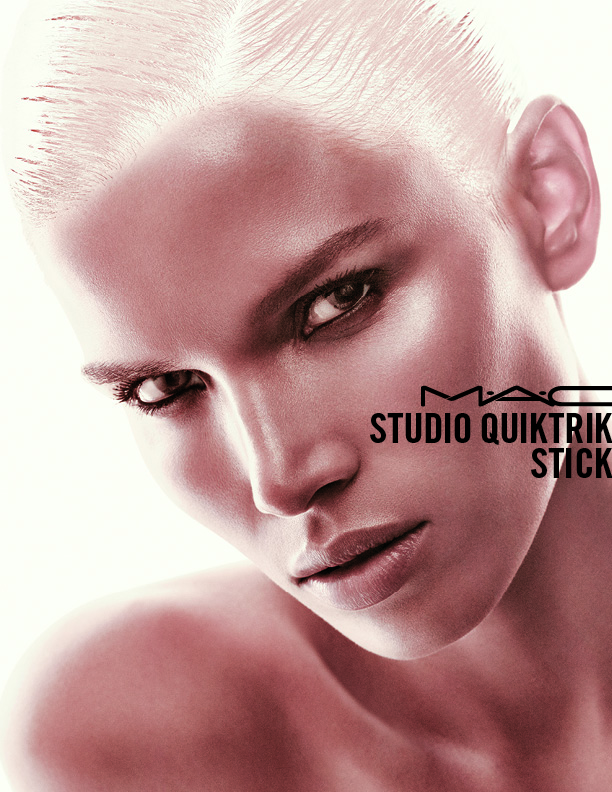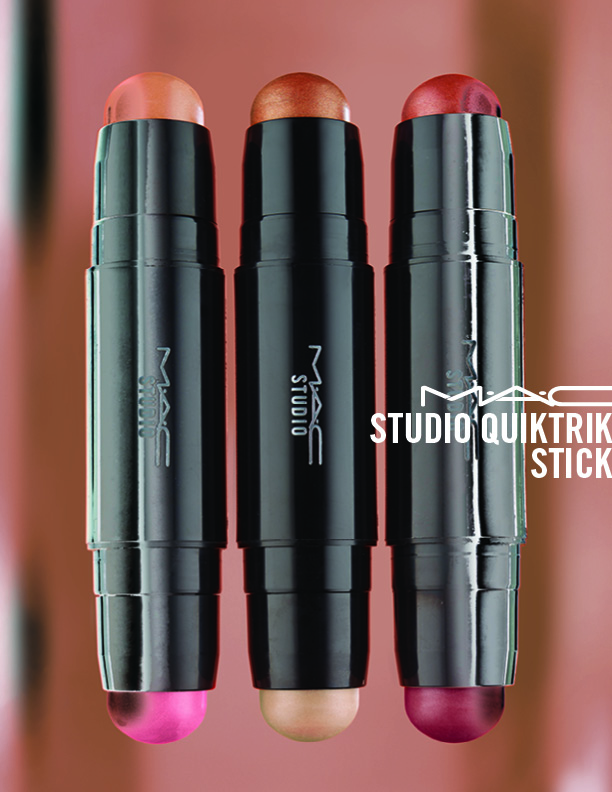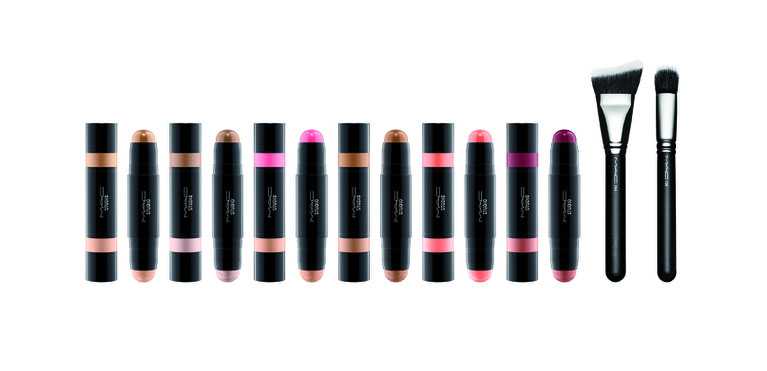 MIT DEM NEUEN M·A·C STUDIO QUICKTRICK STICK RÜCKT JEDE ART VERWANDLUNG IN GREIFBARE NÄHE. DER STICK EIGNET SICH PERFEKT FÜR HIGHLIGHTING, CONTOURING, BRONZING ODER EINFACH NUR ZUM ANBRINGEN EINES FRISCHEN GLOWS. DIE BEIDEN MULTIFUNKTIONELLEN ENDEN DES STICKS SIND IN UMWERFENDEN FARBNUANCEN ERHÄLTLICH UND OBENDREIN PRAKTISCH FÜR UNTERWEGS. WO IMMER SIE SICH GERADE AUFHALTEN, NEHMEN SIE SICH ZEIT UND PERFEKTIONIEREN SIE IHREN LOOK, SO WIE SIE ES MÖGEN. M·A·C STUDIO QUIKTRIK STICK
SOFTLY DOES IT / TIGHT AND TAWNY very light pink shimmer / light taupe
BARE END / EARTHNUT light golden champagne shimmer / muted medium beige
A LATTE SHEEN / SEMI-SWEET light copper with gold and silver shimmer / muted golden bronze
GINGER SPIKED / COUNTERPOINT soft pink with fine-spun gold shimmer / mid-tone bluish pink
MISS CUPCAKE / TOMATO soft pinky peach with fine-spun golden shimmer / vivid bright coral
ALL AFLUSH / HERE YOU GO rose with copper sparkle / deep reddish burgundy
*UVP 46.00 CHF
BRUSH
164 DUO FIBRE CURVED SCULPTING *UVP 54.00 CHF
130 SHORT DUO FIBRE *UVP 64.00 CHF
AB 15. SEPTEMBER 2016 LIMITIERT BEI ALLEN M·A·C COUNTER, M·A·C STORES UND AUF WWW.MACCOSMETICS.CH ERHÄLTLICH.
---
MAC STAR TREK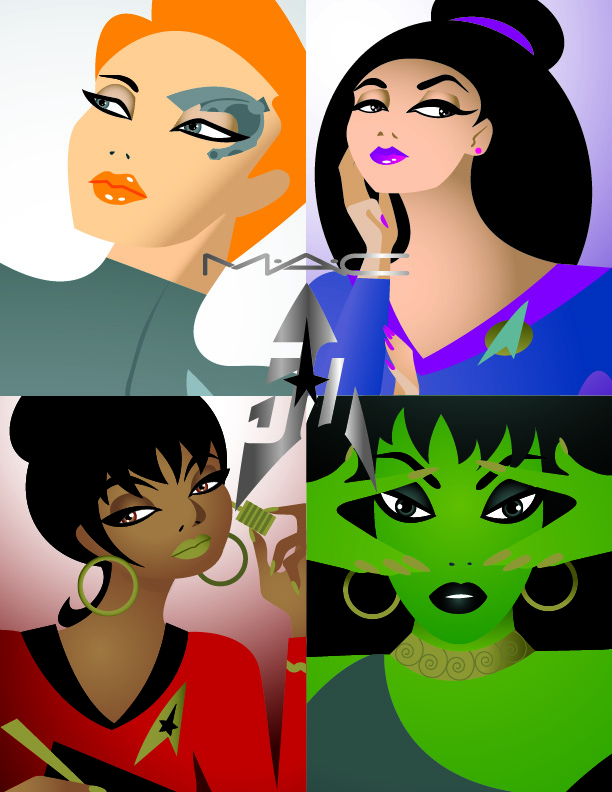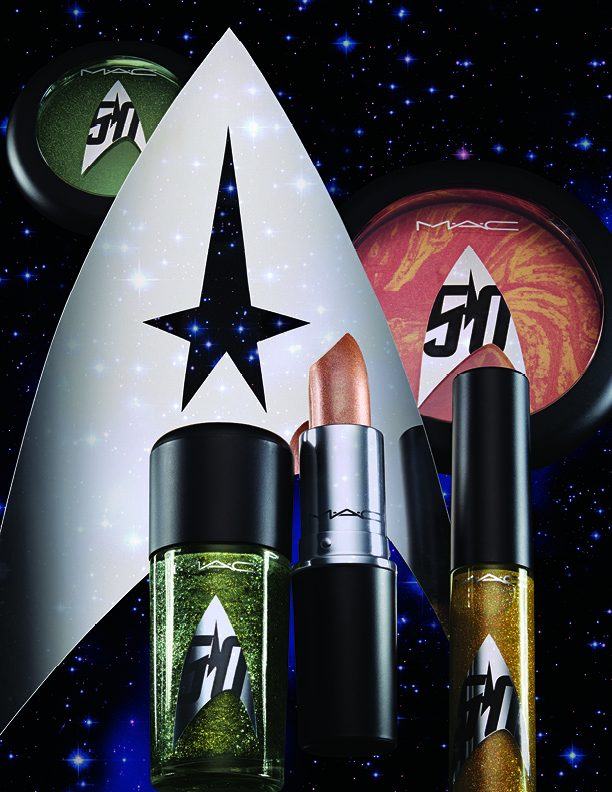 Seit einem halben Jahrhundert beeinflusst Star Trek die Ideen und Schönheitsideale von Generationen getreuer Fans, unabhängig von deren Geschlecht, Rasse und intergalaktischen Fähigkeiten. Anlässlich der diesjährigen Fortsetzung des Science-Fiction-Klassikers lanciert M∙A∙C eine exklusive Make-up-Kollektion mit kosmisch inspirierten Farbnuancen.
Lipglass
Pleasure Planet: muted gold shimmer
Khaaannnn!: berry with red reflect
Set to Stun: light silver with gold pearl
Warp Speed Ahead: plum with blue and pink reflects
*UVP 29.00 CHF
Lipstick
The Enemy Within: neutral gold shimmer (frost)
Where No Man Has Gone Before: pink with gold pearl (lustre)
Kling-It-On: deep purple with fine pink glitter (frost)
LLAP: icy rose champagne (frost)
*UVP 31.00 CHF
Haute & Naughty Too Black Lash black 
*UVP 34.00 CHF
M∙A∙C Studio Nail Lacquer
Skin of Evil: yellowish green with black chunks (frost)
Holla-Deck: gold sparkle (frost)
Enterprise: silver chrome (frost)
*UVP 20.00 CHF
Lash
Wink of an Eye
*UVP 19.00 CHF
Brush
184 Duo Fibre Fan Brush
*UVP 38.00 CHF
246 Synthetic Fluffy Eye Brush
*UVP 38.00 CHF
Superslick Liquid Eye Liner
On the Hunt: true black
Nocturnal: bright silver pearl
Pure Show: bright yellow gold pearl
*UVP 32.00 CHF
Trip The Light Fantastic Powder
Luna Luster: sheer wash of soft rose shimmer
Strange New Worlds: sheer wash of golden coral pearl
Highly Illogical: sheer wash of golden plum with fine pearl
*UVP 45.00 CHF
Pressed Pigment Eye Shadow
To Boldly Go: reddish copper pearl with sparkle (frost)
Midnight: cobalt blue with pearl sparkle (frost)
Bird of Prey: dark olive green pearl with sparkle (frost)
The Naked Time: taupe pearl with sparkle (frost)
*UVP 36.00 CHF
Ab September 2016 exklusiv limitiert an allen MAC Douglas Countern, MAC Stores und auf www.maccosmetics.ch erhältlich.