MAC IT'S A STRIKE!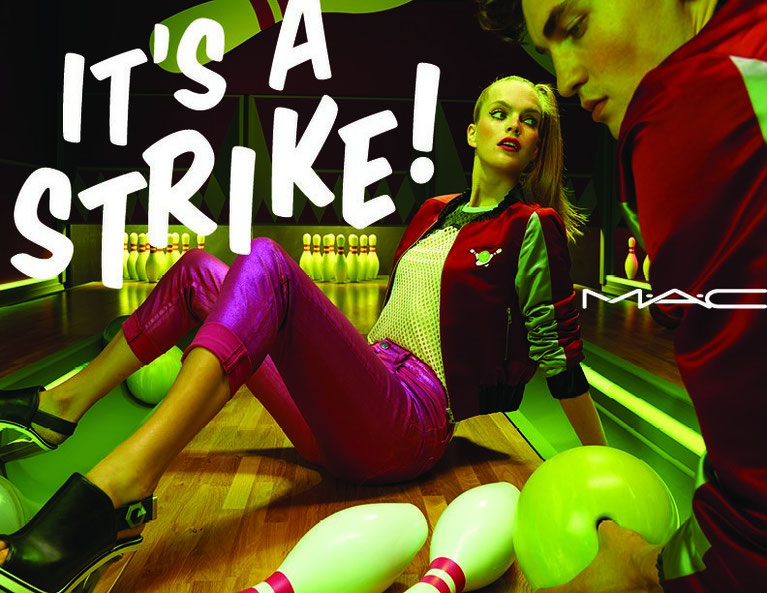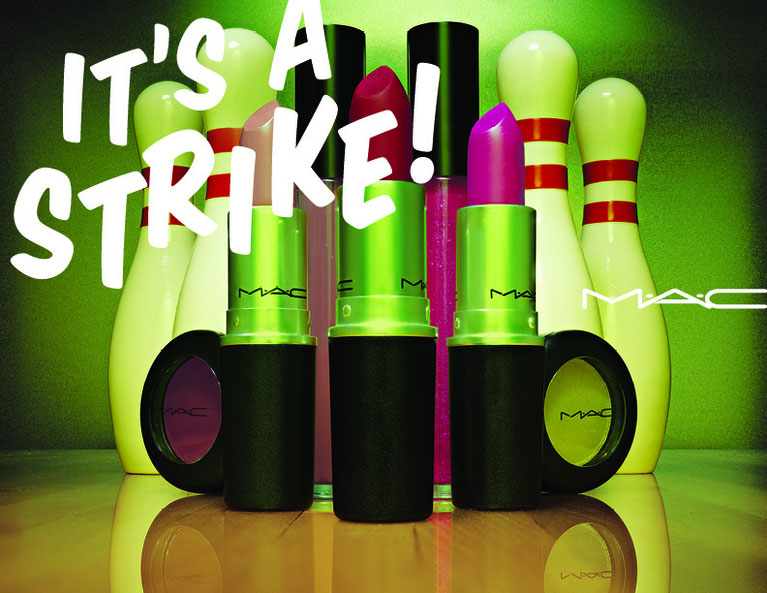 EILEN SIE AUF DER ÜBERHOLSPUR ALLEN VORAUS – SIE KÖNNEN NUR GEWINNEN!
BEI M·A·C IT'S A STRIKE ERWARTEN SIE LIPPENSTIFTE UND CREMESHEEN GLASS IN KNALLIGEM ROT. SATTE LIDSCHATTEN- UND EYELINER-FARBEN
SORGEN DAFÜR, DASS ALLE IN IHRER LIGA MITSPIELEN MÖCHTEN. SETZEN SIE MIT DEN CREMIGEN CASUAL COLOURS UND M·A·CSTUDIO NAIL LACQUERS KONSEQUENT AUF EINE KLARE LINIE UND BRILLIRIEREN SIE ZUM SCHLUSS MIT DEM NEUEN PUDER PEARLMATTE.
LIPSTICK
Honeylovelight beige toned with rose (matte)
Flat Out Fabulous bright plum matte (retro matte)
All Fired Up bright fuchsia matte (retro matte)
Perfect Scoredeep red (matte)
Bowl Me Overdeep burnt brown (retro matte)(online exclusive)
Liquid Lurextarnished gold(dazzle)
Babes and Balls deep burgundy (matte)
*UVP 28.00 CHF
CREMESHEEN GLASS
It's A Strike soft nude pink
King Pindeep chocolatemauve
Throw A Sparefuchsia with pearl
Right Up My Alleydeep red
Spare Medark purple
*UVP 32.00 CHF
EYE SHADOW
Gutter Galoff-whitegrey (matte)
Bowlaramabright lime green (satin)
Bowl Out mid-tone grey (matte)
300 Gameblackened cherry (matte)
Join My League? dark espresso(matte)
Carbonintense black (matte)
*UVP 26.00 CHF
FLUIDLINE PEN
Vintage Browndeep dark brown,
Retro BlackblackIndelibly
Bluedeepnavy blue
*UVP 26.00 CHF
PEARLMATTE FACE POWDER
Trophy multi-colour(pearlmatte)
*UVP 38.00 CHF
M·A·C STUDIO NAIL LACQUER
Rack 'Em Upcool deep khaki (cream)
5 Pindeep wine (cream)
Baby Splitsheer lime green (cream)
*UVP 18.00 CHF
CASUAL COLOUR
Have a Lovely Day!neutral nude
Blind Scoredirty reddish lilac
*UVP 33.00 CHF
BRUSH
116 Blush*UVP 54.00 CHF
213 Fluff *UVP 34.00 CHF
Ab September 2016 exklusiv limitiert an allen M∙A∙C Countern, M∙A∙C Stores und auf www.maccosmetics.ch erhältlich.
---
MAC Vibrantly Young Face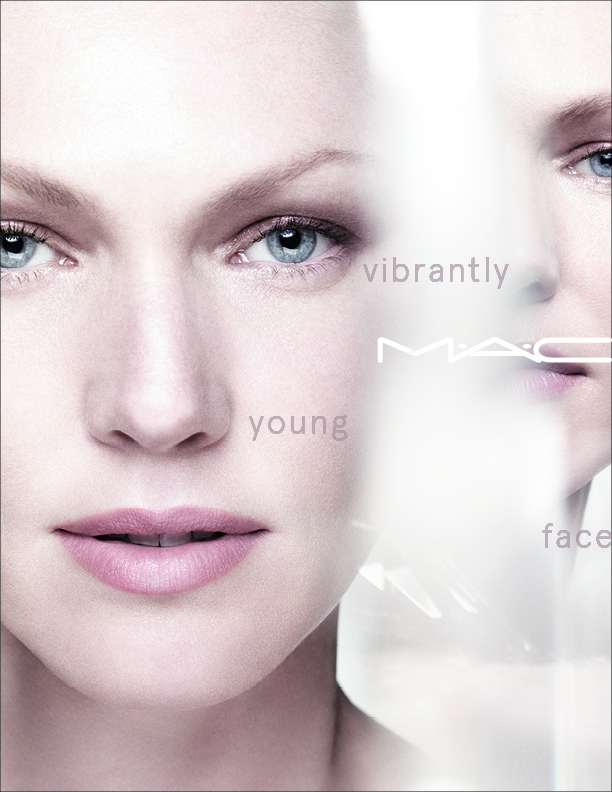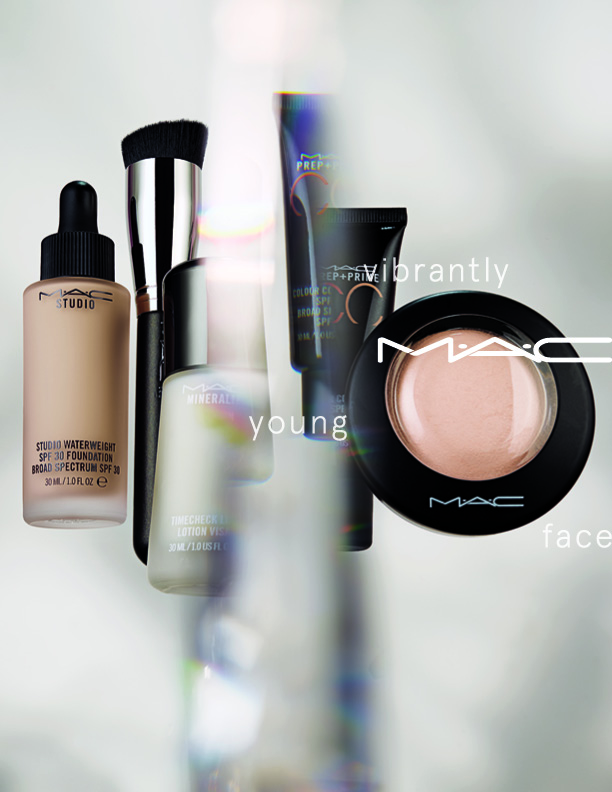 Im Hinblick auf einen makellosen Teint mit jugendlicher Ausstrahlung glättet M·A·C Vibrantly Young Face die Gesichtszüge und macht sie schön ebenmässig und weich. Mineralize Timecheck Lotion and Prep + Prime CC Colour Correcting SPF 30 wirken feuchtigkeitsspendend, schützen die Haut und bringen Unebenheiten zum Verschwinden.
Die zartflüssige Foundation Studio Waterweight SPF 30 ermöglicht eine leichte Deckung mit natürlichem Satin-Finish, während das Mineralize Skinfinish in warmem Rosa den dimensionalen Look perfektioniert.
Mineralize Skinfinish
Warm Rose pastel pink with pink reflects
*UVP 41.00 CHF
Brush
196 Slanted Flat Top Foundation
*UVP 54.00 CHF
Mineralize Timecheck Lotion
*UVP 57.00 CHF
Prep + Prime CC Colour Correcting SPF 30
Adjust peach beige
Illuminate lavender
Neutralize yellow
Recharge apricot
*UVP 42.00 CHF
M·A·C Studio Waterweight SPF 30 Foundation NC15 NW13
NC20 NW15
NC25 NW18
NC30 NW20
NC35 NW22
NC37 NW25
NC40 NW30
NC42 NW35
NC44 NW43
NC45 NW45
NC50 NW47
NW50
*UVP 46.00 CHF
Ab September 2016 bei M∙A∙C Jelmoli, M∙A∙C Globus Genf, M∙A∙C Douglas Glatt, M∙A∙C Manor Lugano und auf www.maccosmetics.ch erhältlich.